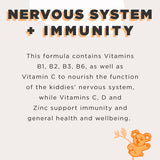 Kids Multi+ (Strawberry Flavour) - 60 Chewables
Kids Multi+ for growth, cognitive development, immune health, and general health. For ages 2-12.
Kids Multi - 60 Chewable Tablets (Strawberry Flavoured)
Gluten-Free. GMO-Free. Aus Made.
No artificial colours, flavours or sweeteners!
(Suitable for ages 2-12)
JSHealth believes in truly nurturing the body and nourishing it with the right nutrients and herbs to reach its full potential.
The kiddies will LOVE this strawberry-flavoured chewable mutlivitamin, designed to support their growth and develpment, and cognitive function! Our kids multivitamin supports children's general health and wellbeing, and is naturally sweetened without any nasties - we want to ensure our kids only get the good stuff!
DEVELOPMENT: Our Kids Multi+ contains Vitamins C and D, Iodine, and Zinc which maintain growth and development in children. Iodine and Zinc support brain function, and Iodine supports cognitive development.
HEALTH: Vitamins B1, B2, B3, B6, B12 and C support nervous system health and function. Vitamins C and D and Zinc support immune system health and function, and general health and wellbeing.
The natural sweeteners used in our Kids Multi+ are:
- Natural strawberry
- Xylitol
- Thaumatin
- Naturally coloured with beetroot
We love every review we've received so far, and hope you will love this formula just as much! Take a look at our reviews below. ♡
The Kids Multi+ contains Vitamin C, Vitamin D, Iodine and Zinc to support healthy growth and development in children.
VITAMINS C & D: Assist in healthy bone development and growth/building. Support healthy teeth, muscle function, muscle strength and the absorption of dietary iron. Support healthy immune system function and health, and support the immune system to fight illness and reduce free radicals formed in the body.
VITAMINS B1, B2, B3, B6 and B12: Support nervous system health and function, and assist with healthy red blood cell production.
VITAMIN E: Helps reduce and decrease free radical damage to cells.
Active ingredients per chewable tablet: Passiflora incarnata (Passion Flower) ext dry 5 mg, derived from flowering herb 25 mg; Thiamine nitrate 2.5 mg, equiv. Thiamine (vitamin B1) 2.03 mg; Riboflavin (vitamin B2) 2.5 mg; Nicotinamide (vitamin B3) 6 mg; Calcium pantothenate 5 mg, equiv. Pantothenic acid (vitamin B5) 4.58 mg; Pyridoxine hydrochloride 5 mg, equiv. Pyridoxine (vitamin B6) 4.11 mg; Calcium folinate 108.5 micrograms, equiv. Folinic acid 100 micrograms; Cyanocobalamin (vitamin B12) 50 micrograms; Biotin 100 micrograms; Retinol acetate (vitamin A) 59.98 RE (200 IU); Ascorbic acid (vitamin C) 15 mg; Citrus bioflavonoids extract 5 mg; Colecalciferol (vitamin D3) 2.5 micrograms (100 IU); d-alpha-Tocopherol acid succinate 8.3 mg, equiv. d-alpha-Tocopherol (vitamin E) 10 IU; Calcium hydrogen phosphate anhydrous 33.94 mg, equiv. Calcium 10 mg; Chromic chloride hexahydrate 128 micrograms, equiv. Chromium 25 micrograms; Ferrous fumarate 3.05 mg, equiv. Iron 1 mg; Magnesium phosphate pentahydrate 50 mg, equiv. 10.33 mg; Manganese bisglycinate chelate 313 micrograms, equiv. Manganese 50 micrograms; Potassium iodide 65 micrograms, equiv. Iodine 50 micrograms; Zinc citrate dihydrate 9.36 mg, equiv. Zinc 3 mg; L-Lysine hydrochloride 12.5 mg, equiv. Lysine 10 mg. 99.6% sugar free.
Directions for use:
Children aged 2-8 years, chew 1 tablet daily with food.
Children aged 9-12 years, chew 2 tablets daily with food, or as directed by your healthcare professional. Do not swallow whole.
Store below 25°C in a cool, dry place away from direct heat and sunlight. Do not use if seal on cap/lid has been broken.
Warnings:
If symptoms persist, talk to your health professional. Always read the label. Follow the directions for use.
Artificial colours, flavours, or sweeteners

Dairy

Eggs

Gluten

Lactose

MSG

Nuts

Peanuts

Sesame

Soy

Sucralose

Wheat
Vitamin C:
Maintains and supports healthy growth and development in children

Maintains and supports general health and wellbeing


Aids/assists healthy bone development/growth/building


Maintains and supports bone health


Maintains and supports healthy teeth


Maintains and supports nervous system health


Maintains and supports healthy immune system function


Maintains and supports immune system to fight illness


Antioxidant which reduces free radicals formed in the body


Helps reduce and decrease free radical damage to body cells


Maintains and supports wound healing


Maintains and supports skin health


Maintains and supports absorption of dietary iron

Vitamin D:
Maintains and supports healthy growth and development in children
Maintains and supports general health and wellbeing
Aids/assists healthy bone development/growth/building
Maintains and supports bone health
Maintains and supports bone strength, mass, density, and integrity
Help maintain and support bone mineralisation
Maintains and supports healthy teeth
Maintains and supports muscle function and strength
Maintains and supports healthy immune system function
Maintains and supports absorption of dietary calcium
Iodine:
Maintains and supports healthy growth and development in children
Maintains and supports cognitive development
Maintains and supports brain function
Zinc:
Maintains and supports healthy growth and development in children

Maintains and supports brain function


Maintains and supports general health and wellbeing

Helps maintain and support healthy blood sugar/glucose


Maintains and supports healthy immune system function


Maintains and supports immune system to fight illness

Antioxidant which reduces free radicals formed in the body


Helps reduce and decrease free radical damage to body cells


Maintains and supports wound healing


Maintains and supports skin health

Vitamins B1, B2, B3, B6, B12:
Maintain and support energy production

Maintain and support nervous system health